This article is part of an ongoing series to highlight fun/unique things different schools across the country are doing to attract students to their technician program, keep them engaged in the program, and set them up for a successful career as a technician.
Instructor Spotlight: Bob Gunn
School: West Kentucky Community and Technical College
# of years teaching: 20+ years
# of years in the industry: 10 years
Watch the Full Interview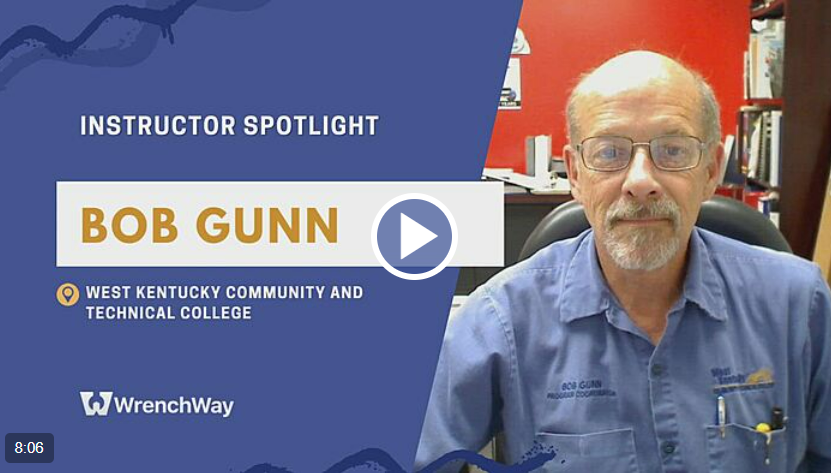 Tell me about how you got involved in the industry. 
Working on cars was always a hobby of mine. I entered a different industry when I was younger. But, when I got into my late 20s, I decided automotive was a good place to be. I went to school and got a one-year certificate. I worked at a shop for a while, decided to go back to school, and earned a two-year degree.
How do you attract students to your program? 
I changed things around recently so that our program could offer night classes. However, I still do a few day courses for the older students. We advertise our night classes on our website and social media to get the word out. This allows employers to let their employees get an education if they want to. My hope is students will work at independent shops and dealerships during the day and then go to school at night.
What are some unique things you include in your curriculum to keep your students engaged?
We have a good set of training vehicles. Since we're in Kentucky, Toyota has been great at supporting our program. A lot of things today are electrical, so I try to get them involved in using their meters. I'm just trying to mix it up and get them used to the different equipment because if you know how the equipment works, it's easier to work on a problem car.
Tell me about how you use WrenchWay Top Schools.
I mentioned it to everyone at our advisory committee meetings. I want to link out to it from our website so people can see it and view our videos.
How does your program prepare students for the industry?
We try to get all our ASE courses covered. For a two-year program, it should give them exposure to the whole industry. With an eight-week course, you can't get into extreme detail, but enough to understand the basics. If students want to go into a specialty later in their career, that's fine. However, it's important for them to have a solid foundational knowledge of the vehicle.
Anything else you'd like to add?
The big thing about this industry is students going into these programs need to be very open to changing technology. I look back to when I started, and it was when carburetors were switching to fuel injectors. We've seen these changes happen and we need to accept them. There's going to be plenty of business in it either way, and that's just the way it is. Students also need to be lifelong learners. Even once you graduate from school, you have to continue to update your skills by watching webinars and attending training.