Trusted By Leaders in the Automotive, Diesel, and Collision Industries
What's Included In Your Top Shop Membership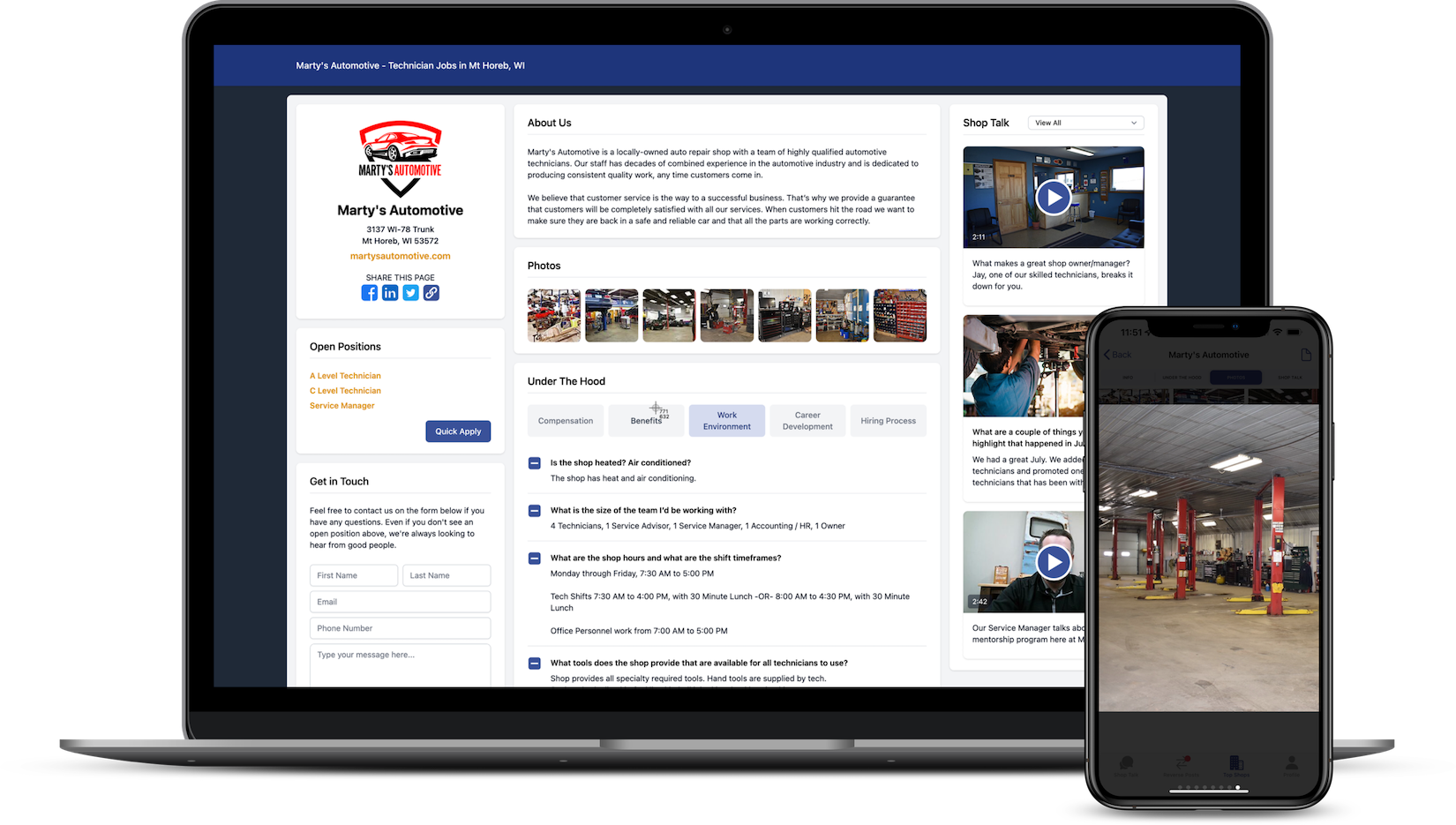 Show Technicians Why You're a Great Place to Work with a Top Shop Page
Your custom Top Shop page includes:
Unlimited job postings
Inclusion on WrenchWay's Top shop listing
QR code and standalone page to supplement your own recruiting efforts
Inclusion in local school promotions
Intuitive design and functionality. No IT resources required!
Engage with Multiple Schools on School Connect
WrenchWay School Connect makes it easier for shops to build relationships with schools and support them. With WrenchWay School Connect:
All schools are on one central platform

Instructors post updates about their programs and anything they need help with

Shops and schools can communicate right on the platform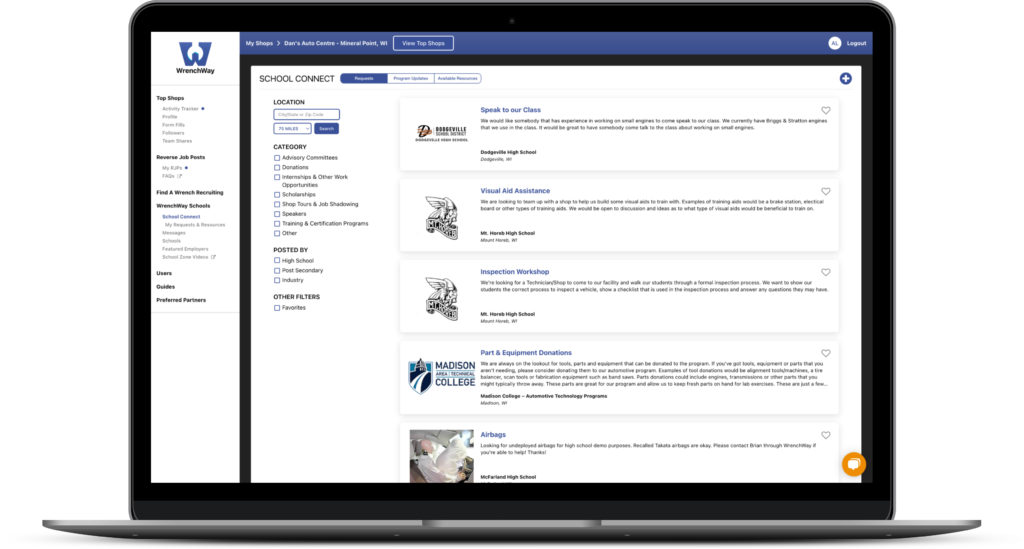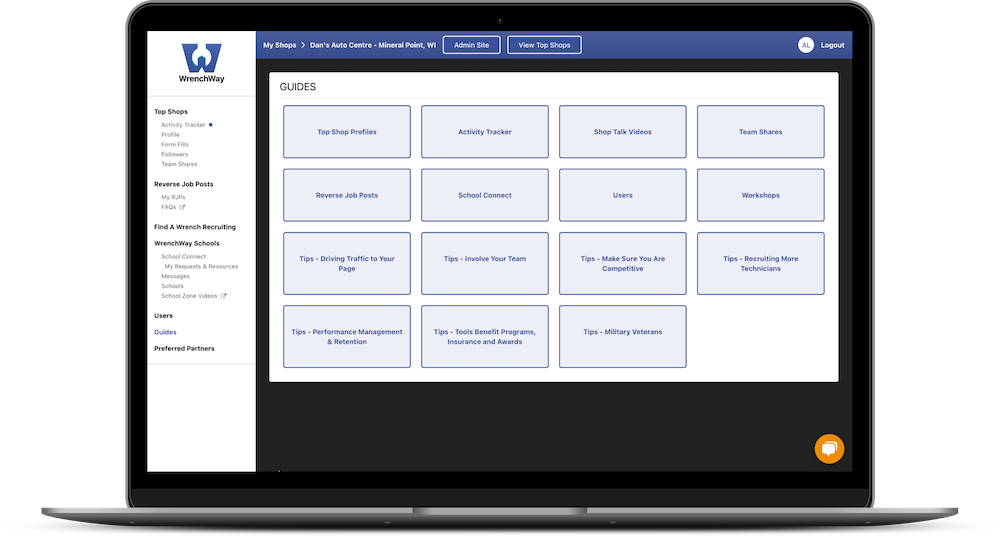 Stay Up-to-Date on Best Practices with WrenchWay Guides
Access our best practice guides around topics that can help you improve your shop. Some examples include:
How To Create An Effective Mentoring Program

Guide to Technician Onboarding

Providing a Tool Benefit for Technicians
Attract Passive Candidates with Shop Talk Templates
The best technicians likely already have a job and aren't on job boards. If your recruiting strategy starts and ends with job boards, you're not getting in front of most technicians.
WrenchWay provides tools and templates to help you create content that will attract these passive candidates. All content gets shared out on our WrenchWay Shop Talk feed.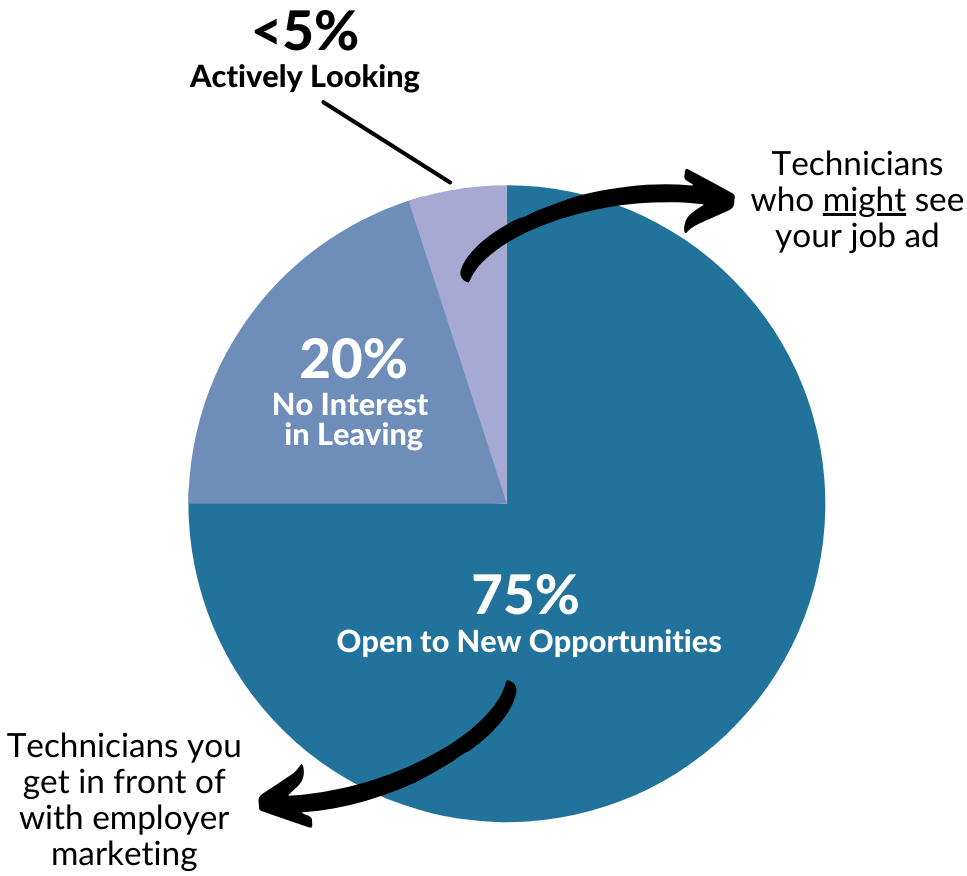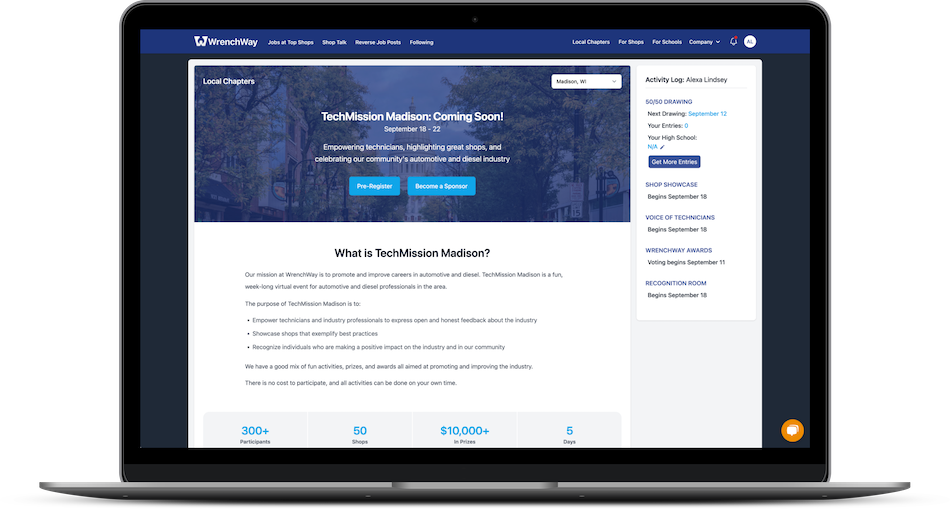 Connect with Local Technicians, Students, and More Through TechMission Local Event Sponsorship
*Only available in limited areas. Check the WrenchWay Local Chapters page.
As a sponsor, you will:
Get in front of 300+ technicians, service advisors, students, and other industry professionals

Be included in the TechMission Local Shop Showcase

Be Listed as a sponsor on event materials

Gain access to data gathered from the technician survey

Have the ability to nominate your shop and/or team members for the WrenchWay Awards
Includes limited time pricing to celebrate WrenchWay's 3rd anniversary. Normally pricing starts at $1,800 / location / year.
$50 / location / month (billed annually)
Join 1,000 of the best shops and dealers in the country to attract technicians to your shop, help local schools, and improve the industry.
Custom WrenchWay Top Shop page

Listed as a WrenchWay Top Shop

Industry best practices and guides
$75 / location / month (billed annually)
Enjoy all the benefits of the standard membership, plus:
Access to WrenchWay Shop Talk templates to attract more candidates

Unlocked Shop Talk section on your Top Shop page

Access WrenchWay Activity Tracker to take your recruiting and retention to the next level
Sign Up to Become a WrenchWay Top Shop