This article is part of an ongoing series to highlight fun/unique things different schools across the country are doing to attract students to their technician program, keep them engaged in the program, and set them up for a successful career as a technician.
Instructor Spotlight: Curt Ward
School: Joliet Junior College
# of years teaching: 28 Years
# of years in the industry: 14 years
Watch the Full Interview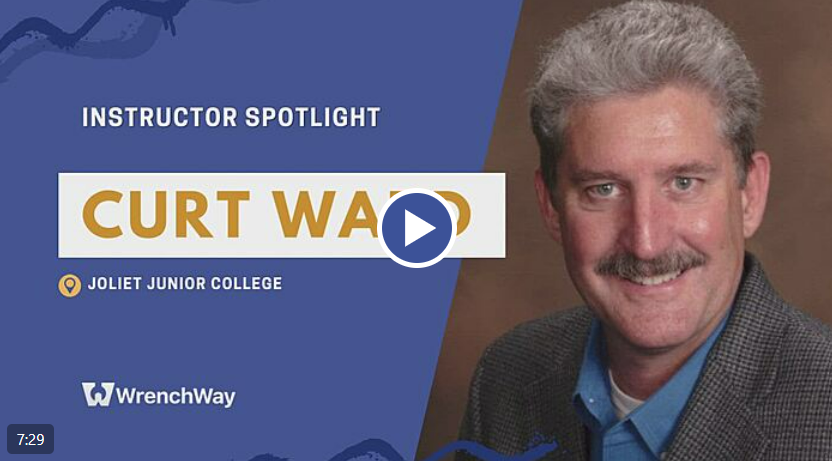 Tell me about your program and how you got involved in the industry. 
Joliet Junior College is a ASE foundation master-certified post-secondary program. We have approximately 120 full-time students. I'm one of seven full-time instructors, so we are a busy place. I joined the program 14 years ago. Previously, I was in the industry as a corporate trainer for Chrysler. I have been a professor now for 28 years.
How do you attract students to your program? 
We're very fortunate to have outstanding high school and career center programs. We spend a fair amount of time visiting schools and highlighting our program. Most of the schools we partner with are part of our dual credit program. If a student is successful at the high school level, they can earn college. That gives students a big advantage in joining our program. The cost of education is going up, if students can pay for one less class, that's money in the bank.
What are some fun or unique things you include in your curriculum to keep your students engaged?  
We are very active in SkillsUSA, and have incorporated that into our program. We've had tremendous success. Every year, we typically have students compete at the state level. Of the 14 years I've been there, we've won the state competition 11 times and have taken students to nationals. At Nationals, we've finished runner-up once and national champion once. Those types of events really excite students. The other thing we've done over the last couple of years is we've added some electives to our program. Now students can take a hybrid and electric vehicle elective or they can take a diesel elective. This allows students to expand their skill set and go into areas traditional auto programs don't go.
Tell me about how you use WrenchWay School Connect. 
We made the connection when WrenchWay first introduced Top Schools. We used the template WrenchWay provided, and it was really easy to do. All the associated shops with WrenchWay can see our program and we make connections. One shop reached out to us and didn't know we had an auto program. We've had an auto program for 70 years at the college. It was amazing to make new connections, and all we had to do was create the page. It worked out really well and I expect it will continue to be a great resource.
How do you prepare students for the industry after they graduate? 
One thing we did early on was establish partnerships with the industry. For example, Hunter Engineering provides us with equipment. OEMs have provided us with a curriculum, and after-market training companies use our space. That's a natural connection for all of our students. This allows students to get a glimpse of what it's like in the industry and have those natural pathways to go into the industry. We've become a great connection point for our students to explore what they want to do once they finish school.