This article is part of an ongoing series to highlight fun/unique things different schools across the country are doing to attract students to their technician program, keep them engaged in the program, and set them up for a successful career as a technician.
Instructor Spotlight: Doug Irish
School: Fayetteville Technical Community College
# of years at the college: 5 Years
# of years in the industry: 20 Years
Watch the Full Interview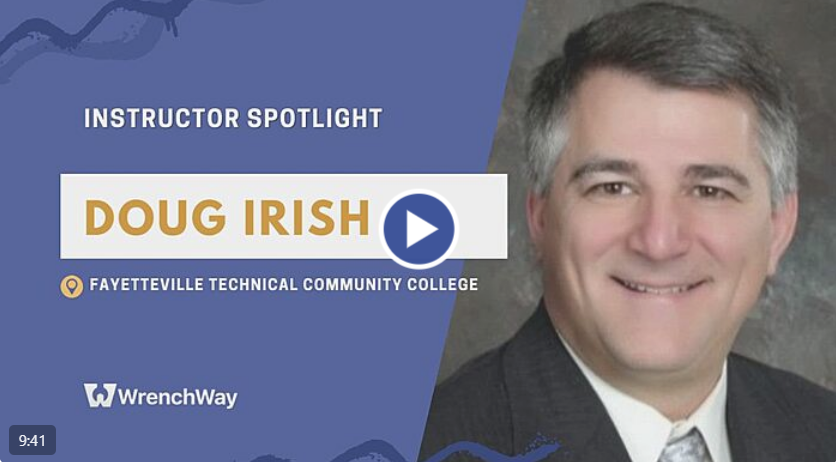 Tell me about how you got involved in the industry. 
I've been in the industry for about 45 years. My interest started in high school, and I went to tech school for collision repair. For 15 years, I worked as a technician, manager, and owner. After that, I went on to work for a large insurance carrier until I retired in 2012. I started a consulting business in 2012, doing quality assurance for collision repair shops. One day, I got a call from Fayetteville Technical Community College because they were looking for someone to run their program. I became the department chair in 2017 and have been there ever since.
How do you attract students to your program?
The college implemented a marketing team and began focusing on high school counselors. We targeted counselors because they have knowledge of which students want to attend a four-year school, which ones are looking for a CTE program, and which students don't really know what they want to do yet. We invite counselors to our program and show them what we're doing. In the last three years, we had about 16 students come in from nine different high schools. This was very good for us because prior to that we might get three or four students from two high schools. This year we have 18 students starting in the fall. For high schools, we have another 16 students starting in the curriculum program.
What do you wish more middle and high school students knew about technician careers and the industry as a whole?
I wish students understood the number of different career paths that are available in this industry. Anybody coming into the program should know you don't have to be a technician, a painter, or a structural guy or girl. You could be an estimator, front office staff, or manager. There are a lot of opportunities with the new ADAS program becoming more popular. At the college, we're trying to focus on making sure students understand they're going to learn the foundations, but you can find something specific you enjoy—that's where you'll want to focus and pursue your career in the future.
How does your program prepare students for the industry?
We have "Draft Days" twice a year. We give our graduating class the opportunity to network with employers from all over the country. Students do a four-hour demonstration on whatever skill they want the employers to see. We then give employers the opportunity to set up interviews with students. Generally, all the students get at least one interview. Most of the time, they will get multiple interviews. Every student that has gone through this program and intends to go into the industry has a job. Most of the students get job offers through this process or shortly after in the area. We work hard to make sure when students leave here, they have somebody that is going to give them a shot.