It's been about two months since we announced the release of Reverse Job Posts, a new way for shops to find technicians looking for work.
Reverse Job Posts flip the traditional job board around:
Technicians fill out a short questionnaire outlining their skill set and what they're looking for in a shop. No resume needed.
Based on where they're willing to work, they are shown a list of shops to approve to see their Reverse Job Post.
Approved shops are notified if a technician in their area is looking for work and are able to message them questions and job opportunities.
Like any new tool or product, there are kinks we're ironing out. One of the things we've been talking to shops about is how they should approach technicians on Reverse Job Posts. We've outlined some guidelines below to help shops find the most success with Reverse Job Posts.
Tips for Approaching Technicians on Reverse Job Posts
Reaching out to technicians on Reverse Job Posts is easy. The most important thing for shops and recruiters to remember is…
A new Reverse Job Post notification does NOT mean the technician applied to your shop.
The technician does not know who you are, so basic communication and conversation skills apply here:
Don't be vague. First and foremost, don't just send over a message that says "Call the shop" or "Apply here." The technician has no idea who you are, and the point of Reverse Job Posts for technicians is to give them a chance to feel out shops and get their questions answered BEFORE they apply.
Introduce yourself. Start with the basics: Say who you are, what shop you work for, and why you're reaching out. Your goal is to make the technician feel comfortable so they respond.
Personalize your message. When telling a technician why you're reaching out, don't just say you're looking for technicians. Tell them what it was about their profile that made you want to reach out to them specifically.
Ask questions. Looking for more detail on one of the questions in their Reverse Job Post? Don't hesitate to ask. The purpose of the conversation is for both the shops and the technicians to decide if it makes sense to apply to a job or come in for an interview.
Don't ghost. Make sure your email notifications are turned on, and check your messages often. If a technician responds, make sure you respond back to them.
Examples: Dos vs. Don'ts of Reverse Job Post Outreach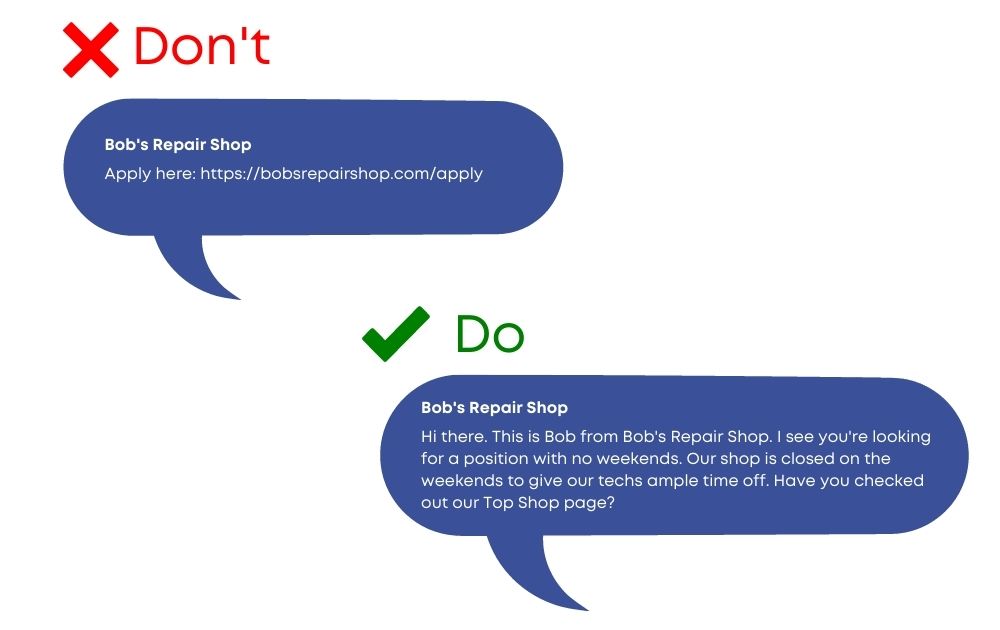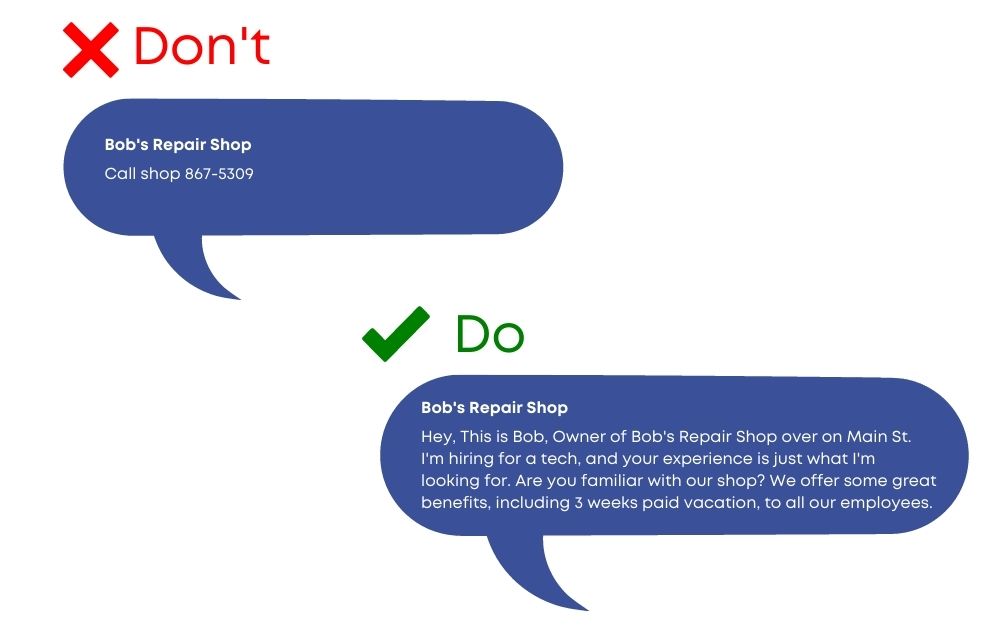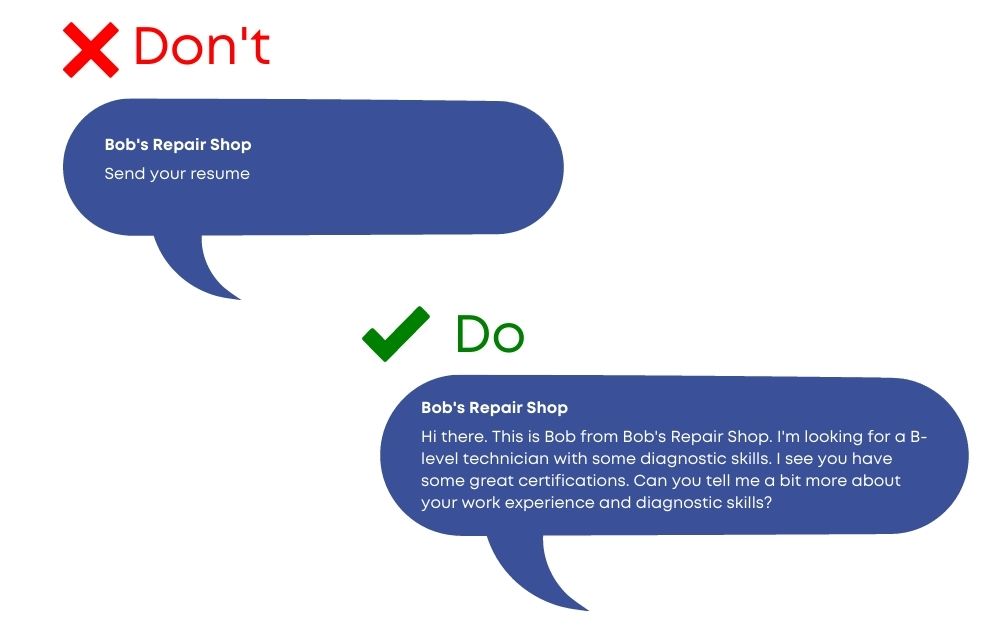 Bonus: Stand Out by Becoming a WrenchWay Top Shop
Many of the technicians on Reverse Job Posts receive messages from 10 to even 50 shops! Following basic conversation skills will certainly help increase your chances of getting a response from the technician. However, the shops that truly stand out are the ones with Top Shop pages.
Here's a summary of the information technicians see from shops with a free Reverse Job Post account versus those with a Top Shop account.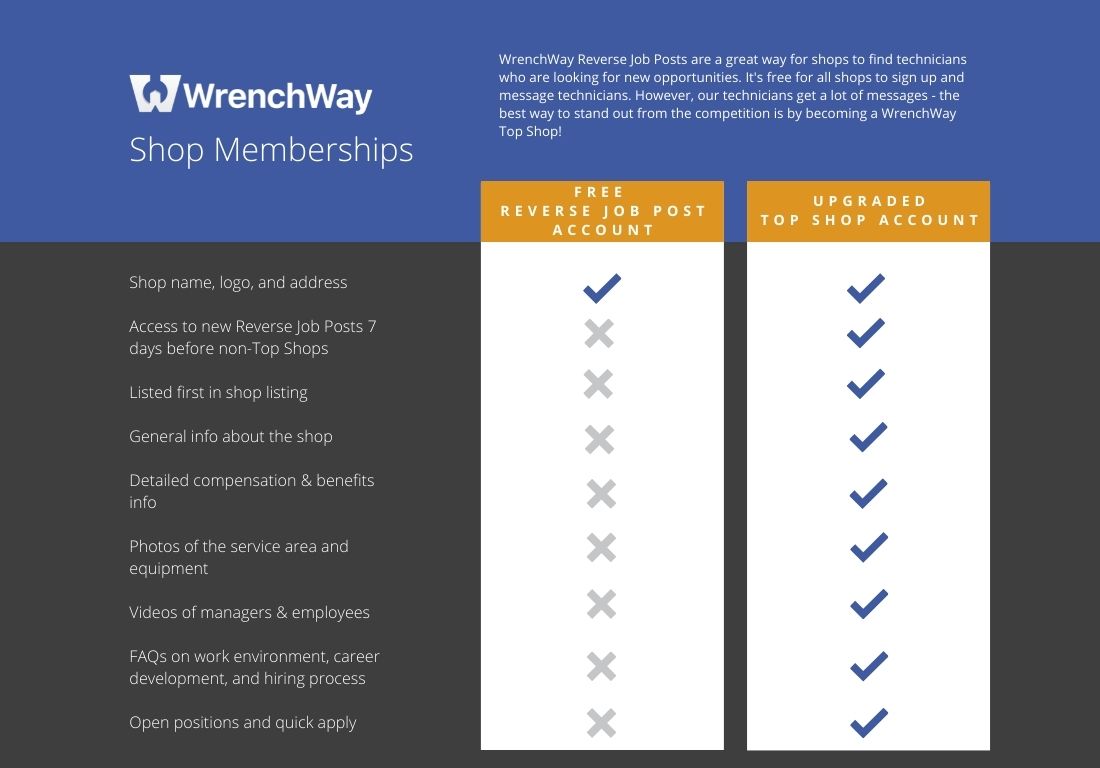 Want to learn more about becoming a WrenchWay Top Shop? Check out our website and contact us — we'd love to chat!
Blog Recap: