Across the industry, shops are feeling the effects of the technician shortage. Finding good, qualified technicians is many shops' first priority, but how do they find them?
Thankfully there isn't a shortage of places for your shop or dealership to post and advertise your open technician positions!
Time to Get Noticed — Where to Advertise Technician Job Openings
WrenchWay Top Shop Page
Competition is intense on all the job boards, especially for automotive technicians. platforms and finding automotive technicians to hire is even harder. How can you make your shop or dealership stand out to technicians? One way shops like Lithia Motors are standing out from competitors is by including a link to their WrenchWay Top Shop page in all of their job postings. Top Shop pages provides all the information technicians want to know about your shop before they interview, including:
General information about the shop
Photos and descriptions of the shop area
Videos of employees and management
Compensation ranges for all levels
Detailed benefits information
FAQs about work environment, career development, hiring process, and more
Open positions
Contact information
Not only can shops link out to their Top Shop page on job postings, they can (and should) link out to it in all the places we list in this article to take their technician recruiting efforts to the next level.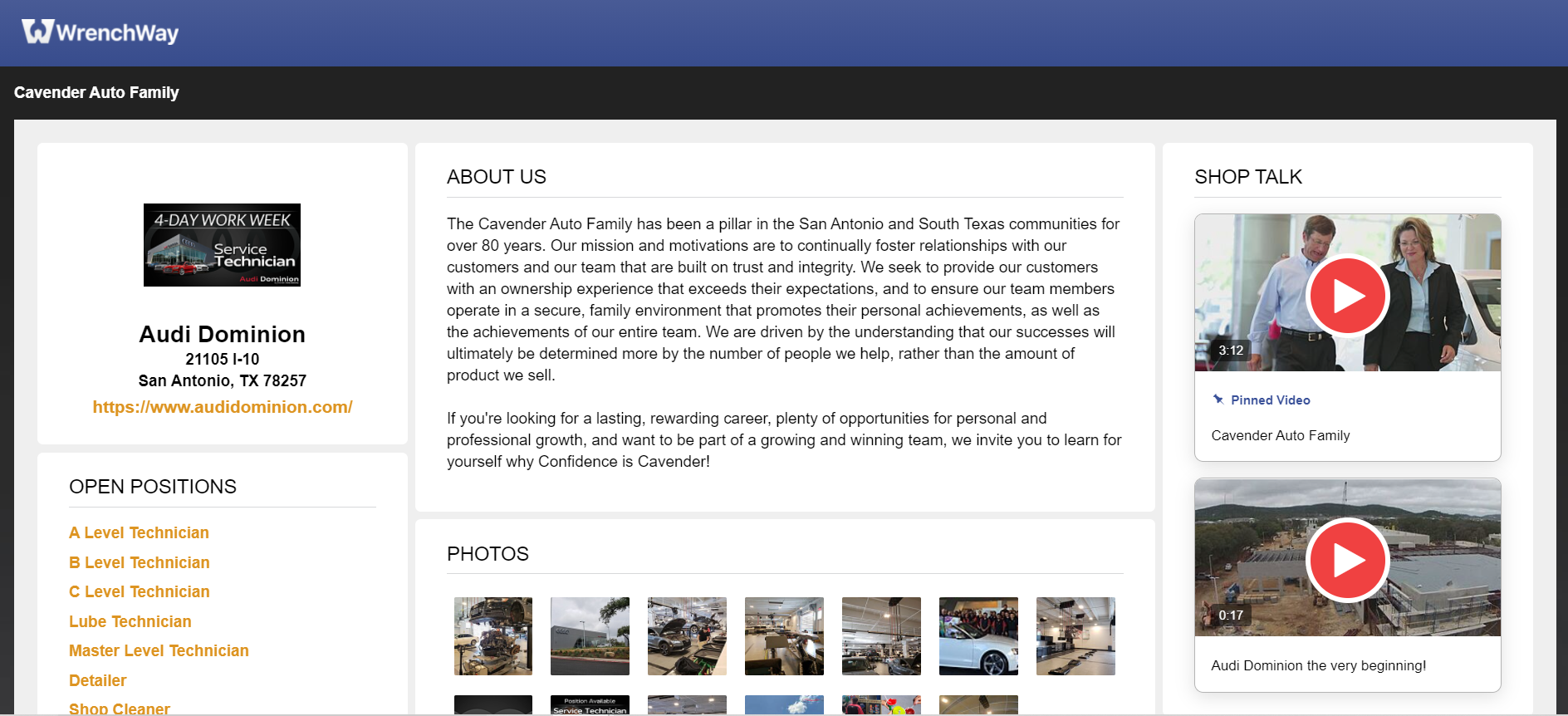 Major Job Boards
A quick Google search will display hundreds of job boards available online. Businesses — large, small, and across all industries — advertise on these job boards attracting millions to their job openings each and every day. The downside to some of the popular job boards is that, for companies to stand out, they can pay upwards of $700+/month for their post to be featured.
Major job boards shops & dealerships should be posting technician job openings on include:
Indeed
ZipRecruiter
CareerBuilder
Glassdoor
Monster
Google For Jobs
LinkUp
SimplyHired
The Muse
Jora
Automotive Industry Job Boards
Sometimes going where the masses are isn't always the answer. While the quantity of applicants will be lower, by narrowing down your search to automotive, diesel and heavy equipment industries job boards, you are more likely to get more qualified applicants.
Industry job boards are gaining in popularity. Make sure to advertise your technician job openings on:
AutoTechnician.org
AUTOjobs
NeedTechs.com
FleetJobs.com
Technician and Mechanic Jobs
Autonews
Auto Job Central
AutoServiceJobs.com
Reverse Job Posts
Reverse Job Posts flips the traditional job board around, and are a super easy and free way to connect with technicians. After you create a free Reverse Job Posts profile, you will get added to the list of shops that technicians approve to see their Reverse Job Posts. Once approved, you will get notified via email of technicians looking for opportunities in your area. When browsing through technicians' posts, you will be able to see a technician's experience, skill set, and what they're looking for in a shop. The technician's name, contact information, and current employer remain anonymous until the technician chooses to disclose. If you see a technician you'd like to chat with, you can message back and forth to learn more about their experience and what they're looking for. If it seems like a good fit, you can set up a time to interview.
Wondering if your shop should get started with Reverse Job Posts? Check out how Brian Bates from Eagle Automotive Service hired a technician for his shop using Reverse Job Posts.
Social Media Pages
Nowadays social media is used more than just for keeping in touch with family and friends. Shops and dealerships are using social media to interact with customers, and now to get the word out about open positions. Social media is becoming second nature and a trusted source for most millennials and zoomers to go to find employment. According to an international buyer behavior company, 73% of job seekers under the age of 34 found their last place of employment on social media.
Social media sites that shops should be posting their technician job openings on, include:
LinkedIn
Facebook
Twitter
Instagram
Employee Shares on Social Media
As an added (free) bonus, not only can you post open positions on your shops' social media pages, but to get an added reach, have your employees share the post on their personal profiles. A leading social media management platform has developed an employee advocacy calculator to further prove the usefulness of this technique.
For example, according to the employee advocacy calculator, if you publish a post through your shop's social media pages and your shop has 1,000 followers on Facebook, LinkedIn and Twitter, your post could reach 3,000 people. But, if you have your 10 employees share that same post, it would expand the reach of the post to 9,000+.

Employee Referral Program
By having your employees refer people from their network, it already makes the candidate more qualified since they've been vetted, so why not incentivize employee referrals? Studies have shown that referred employees start sooner, are more likely to stay, and generate more profit for the company. Referral programs do not need to be costly for shops and dealerships. You can encourage employee referrals by simply offering an extra afternoon off, or a gift card to a local restaurant.
Social Media Ads
Some shops and dealerships are looking for specific certifications or years of experience in candidates. The advancement of social media advertisements, especially on Facebook and LinkedIn, allow specific audiences to be reached based on the criteria you set.
Filter your target audience by using:
Location
Language
Job Title
Education
Years of Experience
Interests
Facebook & LinkedIn Groups
Get the word out even more that you are hiring by posting to Facebook and LinkedIn groups. On these social platforms, just search for local groups or industry-specific groups where it makes sense to post open technician positions. Some social groups are open to join, while others make users "request to join" and sometimes even fill out a small questionnaire.
The benefits to posting on various groups is that it is free and gives you a chance to screen candidates' skills, hobbies, qualifications, and more before the interview.
Jobs Tab on Facebook Business Page
Many shops and dealerships are active on social media and most have a business Facebook page. If you do not, they are free and easy to make. What is great about posting jobs to Facebook is that it is a simple experience for both parties. It takes minutes (not hours) to add a job post, and it is easy for candidates to apply. Posting the job is free, but you can also pay to promote your post and reach a larger audience.
LinkedIn Career Page
Just like Facebook, LinkedIn has a Career page feature. Shops and dealerships can enhance their page by adding this paid feature in order to attract the right type of talent. Candidates can search for specific jobs within your company, or get alerts when they are posted. Costs for a Career page start at $30/month.
Create A Flyer
Show off the openings your shop is offering by creating a flyer. It doesn't have to be an overly complicated flyer either! You can simply add your logo, a few lines of text to draw in the reader, and then add a QR code that links to the job posting(s). Just check out the flyer Lithia Motors is bringing along with them to career fairs!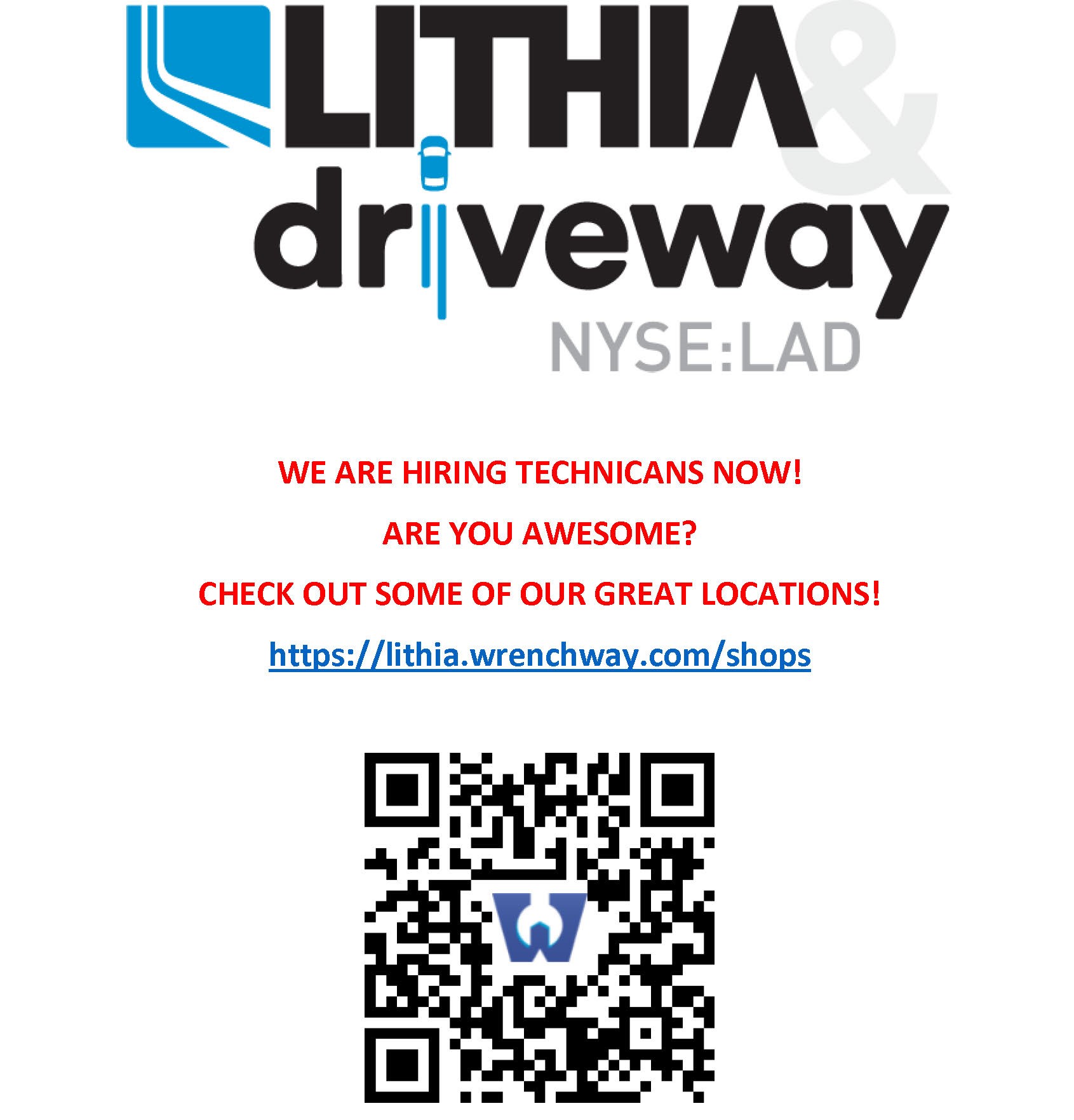 Your Website
Your website needs to not only be useful for your customers, but for potential applicants as well. Priority is always your customers, but you can't serve your customers' needs without effective workers. Consider adding, if you don't already, a job or employment opportunity tab on your website. These can commonly be found under the "About Us" section or in the footer (bottom) of your website.
Not only post the open positions you have on your career page, but use this page as a chance to talk about the benefits of your company. Consider sharing photos of your shop, or even testimonials from your current employees. This is your chance to show off and attract great technicians.
Since technicians are so difficult to find, you can also include a link to your Top Shop page from your website or career page to give them a better idea of why your shop is a great place for techs to work.
Work with Local Schools and Colleges
Not everyone is built for the classroom. Sadly, there is a negative energy behind young students choosing to go into the skilled trades. Your shop and dealership can make a difference to a young student struggling to find his/her way in their career. Some ways you can help local schools attract and engage young students in technician programs, include:
Speaking to a class
Giving shop tours
Donating tools, equipment, and/or parts
Offering internships/apprenticeships/job shadowing
By getting your shop in front of students early and helping them learn more about the industry, your shop will be top of mind when it comes time to apply for jobs.