Across the industry, shops are feeling the effects of the technician shortage. Finding good, qualified technicians is the top priority of many shops. But where are shops supposed to find these technicians?
Thankfully, there isn't a shortage of places for your shop or dealership to post and advertise open technician positions.
Where to Find Automotive Technicians
WrenchWay Top Shop Page
Job board competition is fierce—especially for automotive technicians. How can you make your shop or dealership stand out to technicians?
One way shops like Lithia Motors are standing out from competitors is by including links to their WrenchWay Top Shop pages in all of their job postings. Top Shop pages provide all the information technicians want to know about your shop before they apply or interview, including:
General information about the shop
Photos and descriptions of the service area
Videos of employees and management
Compensation ranges for all levels
Detailed benefits information
FAQs about work environment, career development, and hiring process
Open positions
Contact information
Not only are shops linking to their Top Shop pages in job postings, but they're also linking to it in all the places we list in this article—taking their technician recruiting efforts to the next level.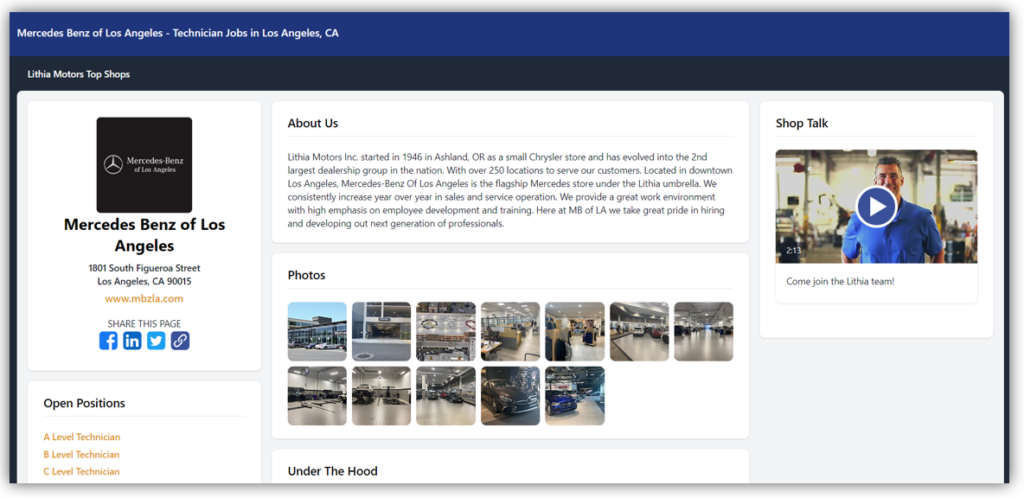 Major Job Boards
There are hundreds of job boards available online. Businesses—large and small, and across all industries—advertise on these job boards. While they get a lot of web traffic, the downside to major job boards is that companies have to pay a lot in order to make sure their job ad is seen. This is especially true for shops, given the high number of technician job openings in any given area.
Major job boards shops and dealerships should advertise their technician job openings on include:
Indeed
ZipRecruiter
CareerBuilder
Glassdoor
Monster
LinkedIn
Google For Jobs
LinkUp
SimplyHired
The Muse
Jora
Automotive Industry Job Boards
Sometimes, going where the masses are isn't always the answer. While the quantity of applicants will be less, by narrowing down your search to automotive, diesel and heavy equipment industry job boards, you are more likely to get qualified applicants.
Industry job boards are gaining in popularity. Test out advertising your technician job openings on:
AutoTechnician.org
AUTOjobs
NeedTechs.com
FleetJobs.com
Technician and Mechanic Jobs
Automotive News
Auto Job Central
AutoServiceJobs.com
Reverse Job Posts
Reverse Job Posts flip the traditional job board around and are an easy, free way to connect with technicians.
How it works is technicians fill out a questionnaire summarizing their skill set and what they're looking for in a shop. All their contact information is kept anonymous. Once their reverse job post is live, shops in their selected area receive an email notification. Then, shops can look at the technician's reverse job posts, and decide if they want to send them a message, and, if it seems like a good fit, set up an interview.
Want to sign up? Create a free WrenchWay account. Once signed up, you'll receive an email notification any time a technician is looking for new opportunities in your area.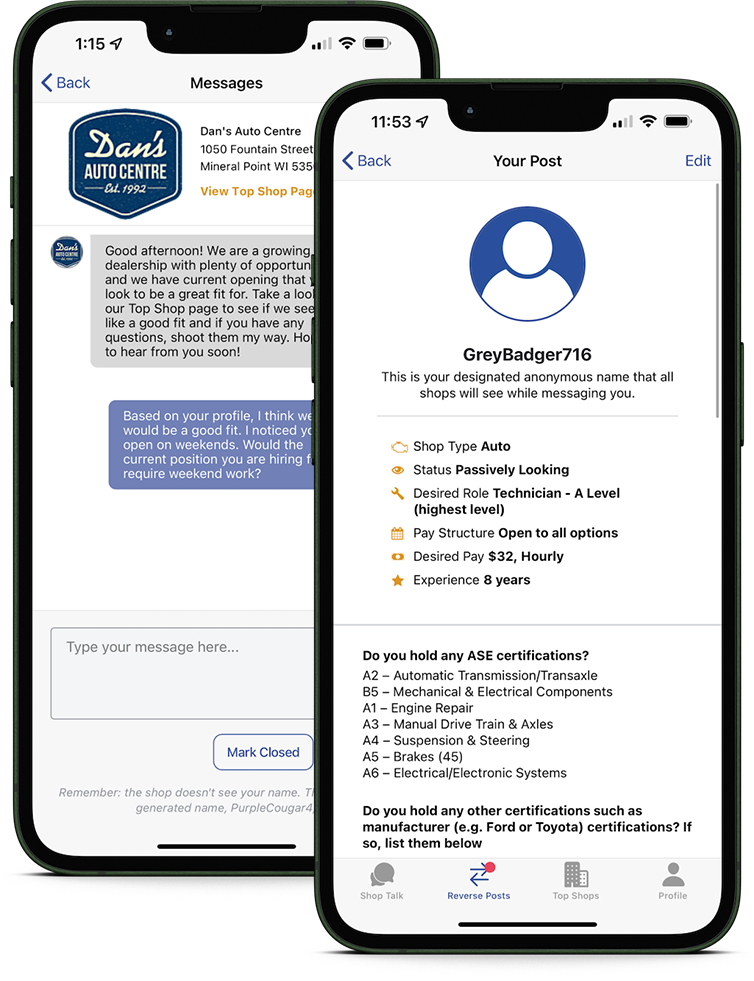 Social Media Pages
Social media isn't just for attracting and communicating with customers. It's also a great place to connect with technicians.
Social media is a trusted source for millennials and zoomers to find employment. According to Aberdeen Group, 73% of job seekers under the age of 34 found their last place of employment on social media.
Social media sites that shops should post their technician job openings on include:
LinkedIn
Facebook
Twitter
Instagram
TikTok
YouTube
Employee Shares on Social Media
Not only should your shop post open positions on your social media pages, but you should also encourage your employees to share those job openings on their social media pages.
According to Hootsuite's employee advocacy calculator, if you publish a post through your shop's social media pages and your shop has 1,000 followers on Facebook, LinkedIn, and Twitter, your post could reach 3,000 people. But, if you have 10 employees share that same post, it would expand the reach to 9,000+.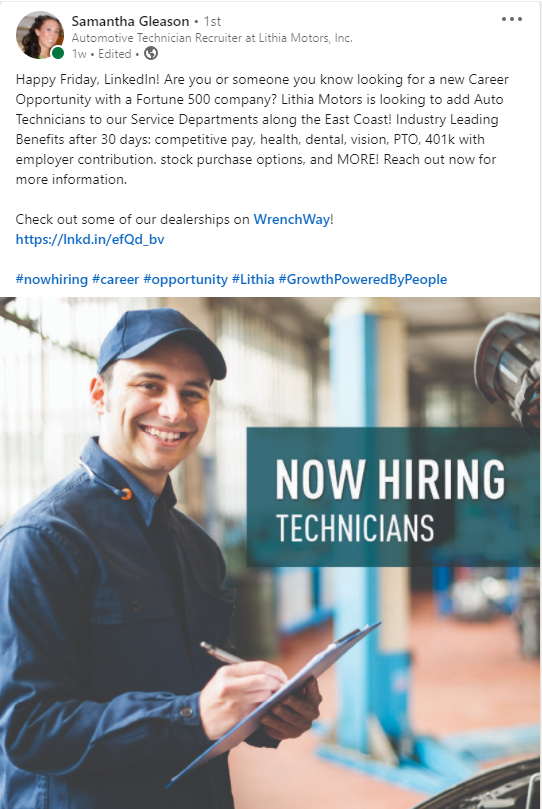 Employee Referral Program
Employee referrals are a great way to find high-quality candidates. Studies have shown that referred employees start sooner, are more likely to stay, and generate more profit for the company.
Employee referral programs do not need to be costly for shops and dealerships. You can encourage employee referrals by offering PTO or a gift card for every candidate they refer that gets hired.
Social Media Ads
Some shops and dealerships are looking for candidates with specific certifications, years of experience, or specializations. The advancement of social media ads, especially on Facebook and LinkedIn, make it easier to target and reach niche audiences.
Filter your target audience by using:
Location
Language
Job Title
Education
Years of Experience
Interests
Facebook & LinkedIn Groups
Another great way to find technicians is through Facebook and LinkedIn groups. On these social platforms, just search for local or industry-specific groups where it makes sense to post open technician positions. Some social groups are open to joining, while others require users "request to join."
The biggest benefits of posting on social groups are that it is free, and it's a great opportunity to interact with passive candidates.
Jobs Tab on Facebook Business Page
Posting jobs on your shop's Facebook page is free and easy to do and allows your followers and anyone who visits your page to see the positions you're hiring for.
To add a job on Facebook:
Go to your shop's business page.
Select "More" > "Jobs".
Then, select "Create job" and follow the simple steps to list your job posting.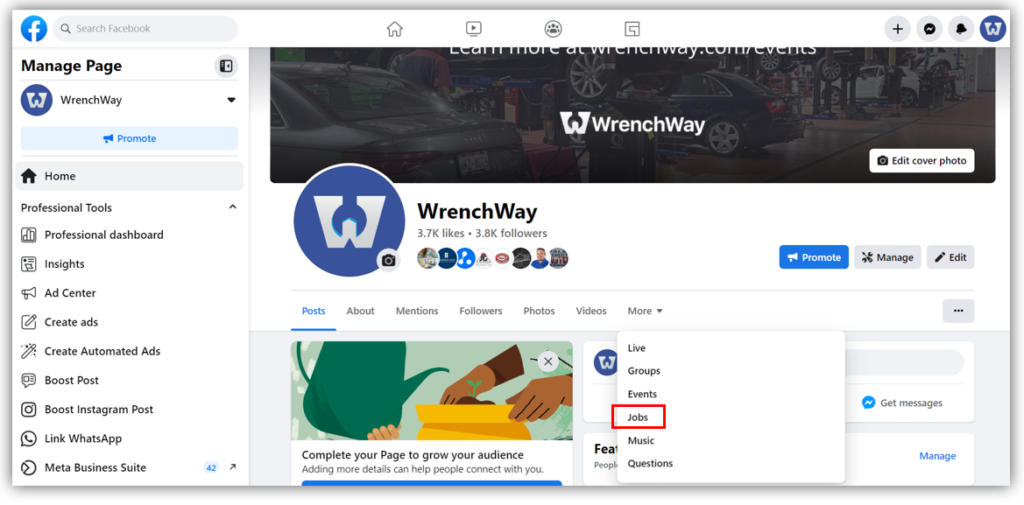 LinkedIn Career Page
More and more technicians are getting on LinkedIn to connect with industry professionals and explore job openings. Because of it, LinkedIn Career pages are another way to raise awareness and drive interest in your shop from potential candidates. This is a paid feature from LinkedIn that allows you to show off shop culture, target the right candidates, and showcase your job openings. Costs for a LinkedIn Career page start at $30/month.
Create a Flyer
Promote job openings in your shop by creating a simple flyer. It doesn't need to be overcomplicated. You can simply add your logo, a few lines of text, and then add a QR code that links to more information about your shop and job openings. Keep these flyers at the service desk, bring them to career fairs, and hand them out wherever you go!
Here's a sample flyer Lithia Motors created to bring to career fairs.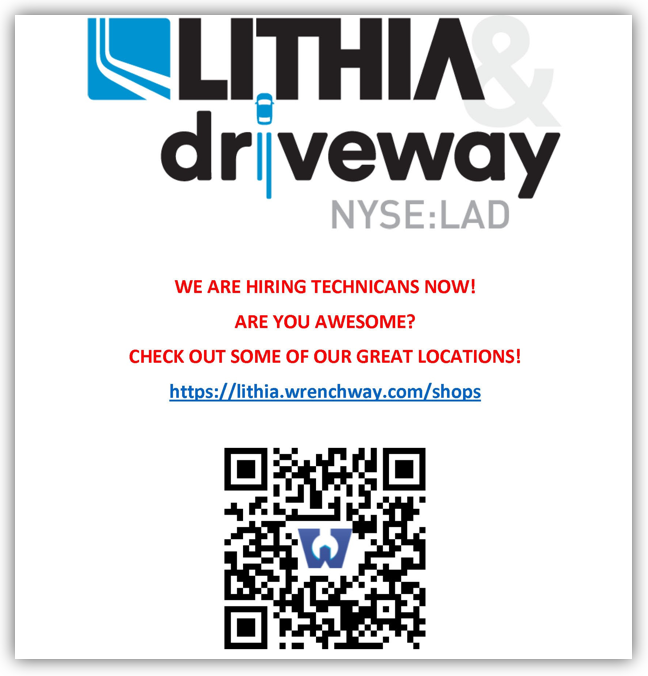 Your Website
Your shop website may be primarily for customers, but don't forget about potential candidates. According to HR Dive, 61% of job seekers check out a company's website before applying.
Consider adding a Careers page on your website. This page should not only list all open positions, but it should also talk about the benefits of your working at your shop.
Since technicians are particularly difficult to find, you can also include a link to your Top Shop page from your website or career page to give them a better idea of why technicians love working at your shop.
Check out this example from Lifetime Transmissions. They use a sidebar on their homepage to link technicians directly to their Top Shop page. Since the homepage is the most visited page on any website, this sidebar is a surefire way to ensure any potential technician candidate who comes to their website gets to the right place.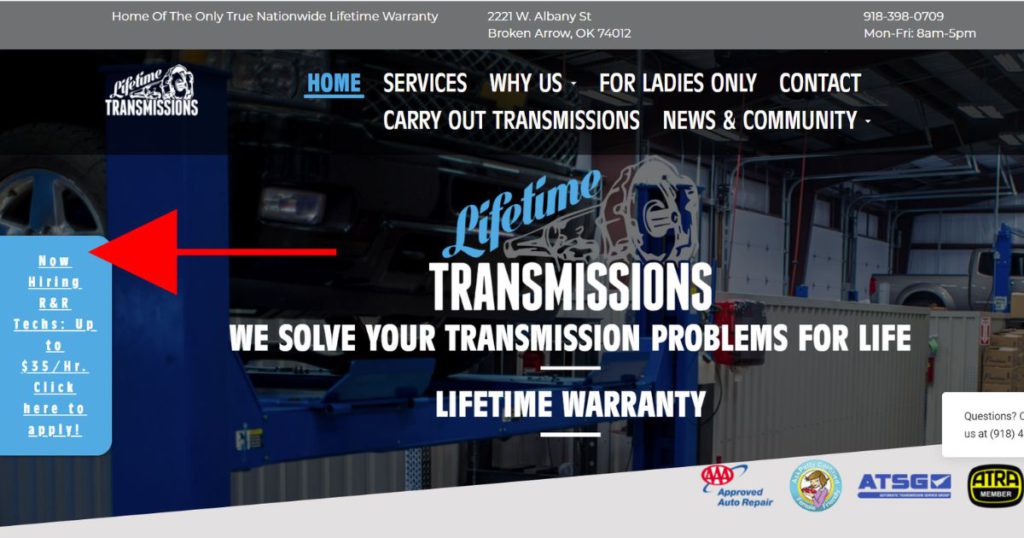 Work with Local Schools and Colleges
The best way to get in front of technician candidates is to get in front of them early (even before they're technicians)! Build relationships with local high schools and post-secondary schools to help them attract and engage young students in technician programs by:
Speaking to a class
Giving shop tours
Donating tools, equipment, and/or parts
Offering internships/apprenticeships/job shadowing
By getting your shop in front of students early and helping them learn more about the industry, your shop will be top of mind when it comes time to apply for jobs.
Editor's Note: Last updated October 2022. This article was originally published in July 2021 and has been revamped and updated for accuracy and comprehension.