We're excited to announce the release of our new product to help high schools and post-secondary schools with technician programs connect with local shops and dealerships.
WrenchWay School Connect is a free tool that makes it easier for schools to get the resources they need to attract more young students to technician programs and educate them about the industry.
Mark Wilson, CEO of WrenchWay explains, "We believe in local solutions to a national problem. We all know we're facing a massive technician shortage and seeing less young people enter the industry. Instead of waiting for the states to make these big changes, there are little things we can do to make changes in our own communities. If these little changes start to snowball, we will see the technician shortage start to go down."
How WrenchWay School Connect Works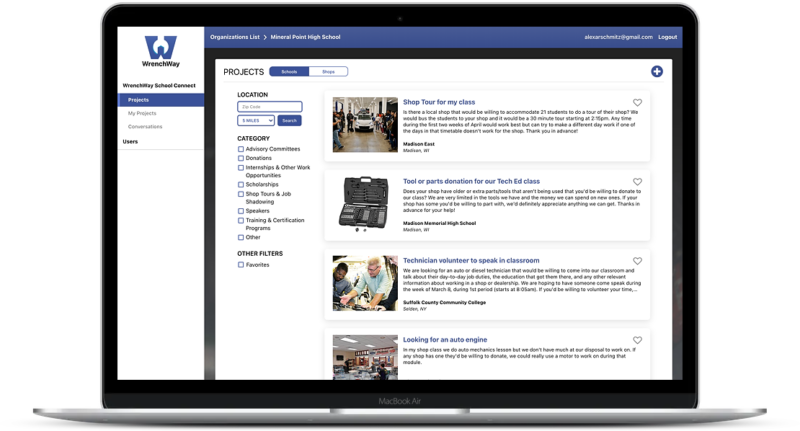 School Connect is open for all shops and dealerships to use. Likewise, schools of any size, with or without an automotive or technician program, can sign up. Even small high schools that don't offer a dedicated automotive class can benefit from things like bringing in a shop owner or technician to talk about what it's like working in the industry, or having a small engine to dig into during a tech ed class.
School Connect is super easy to use. Once users sign up for a free account:
Schools can post requests for anything they could use to help improve their programs. Shops and dealerships can also post any resources they have available to local schools who are interested.
Schools and shops can scan the list of available resources and open requests, and message back and forth on the platform to ask questions and coordinate logistics.
"Some examples of requests include: Speakers, shop tours, tool and parts donations, internships/apprenticeships, advisory committees, and so forth. The more resources we can make available to schools, the easier it is for them to get young people excited about our industry," Wilson explains.
Schools, shops, and dealerships who are interested learning more or signing up for a a free account, can do so on our website: https://wrenchway.com/solutions/schools/