We are incredibly excited to be hosting the third annual TechMission virtual event coming October 19-20, 2022!
TechMission brings together technicians, shop owners and managers, and fixed ops directors to discuss how we can work together to promote and improve technician careers. This year's sessions will ignite and challenge shops to actually take action—working with technicians and schools to elevate the industry.

TechMission 2022 Agenda
Day 1 – Wednesday, October 19, 2022
9:00-9:30am CT: Welcome Session
9:30-10:30am CT: How to Create an Attractive Compensation & Benefits Packages for Technicians… Even If You Think You Can't Afford It
11:00am-12:00pm CT: What Technicians Actually Want From Employers
12:00-1:00pm CT: Lunch
1:00-2:00pm CT: Attracting Women to the Industry: Making Your Shop Female-Friendly
2:30-3:30pm CT: Happy Hour Discussion — What's Brewin' at WrenchWay?
Day 2 – Thursday, October 20, 2022
9:00-9:30am CT: Morning Coffee Chat — Recap of Day 1 at TechMission
9:30-10:30am CT: Transforming Your Shop & Making Changes
11:00am-12:30pm CT: Getting Started: Using Video & Social Media to Attract Technicians
12:30-1:30pm CT: Lunch
1:30-2:30pm CT: Making People Your Priority
3:00-4:00pm CT: TBA
Interested in Sponsoring TechMission?
Check the new WrenchWay Sponsorship Opportunities!
Get your company in front of managers, owners, instructors, technicians, and other industry professionals from the auto, diesel, and collision industries. Our new WrenchWay sponsorship packages include sponsorship of:
TechMission 2022
Beyond the Wrench podcast
Our new weekly game (Coming soon!)
All proceeds go towards weekly giveaways to technicians and high school tech programs.
Check out our flyer to learn more: WrenchWay Sponsorship Opportunities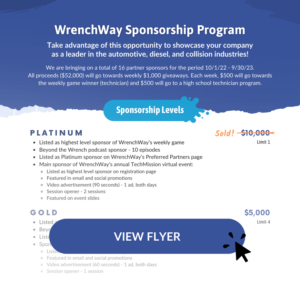 Interested? Email Val Klein, Marketing Specialist, WrenchWay, at valerie@wrenchway.com.