It's no secret — recruiting technicians in today's market is brutal for shops and dealerships. Nearly every shop is hiring, making it incredibly difficult to stand out to technicians as a place they want to work at.
WrenchWay has worked with shops across the country in the automotive, diesel, and collision repair industries to help them market themselves as a great place for technicians to work.
Our clients utilize their Top Shop pages to help boost their technician recruiting efforts, but the tips and examples below are something any shop can benefit from.
Top Shops Who are Winning at Technician Recruiting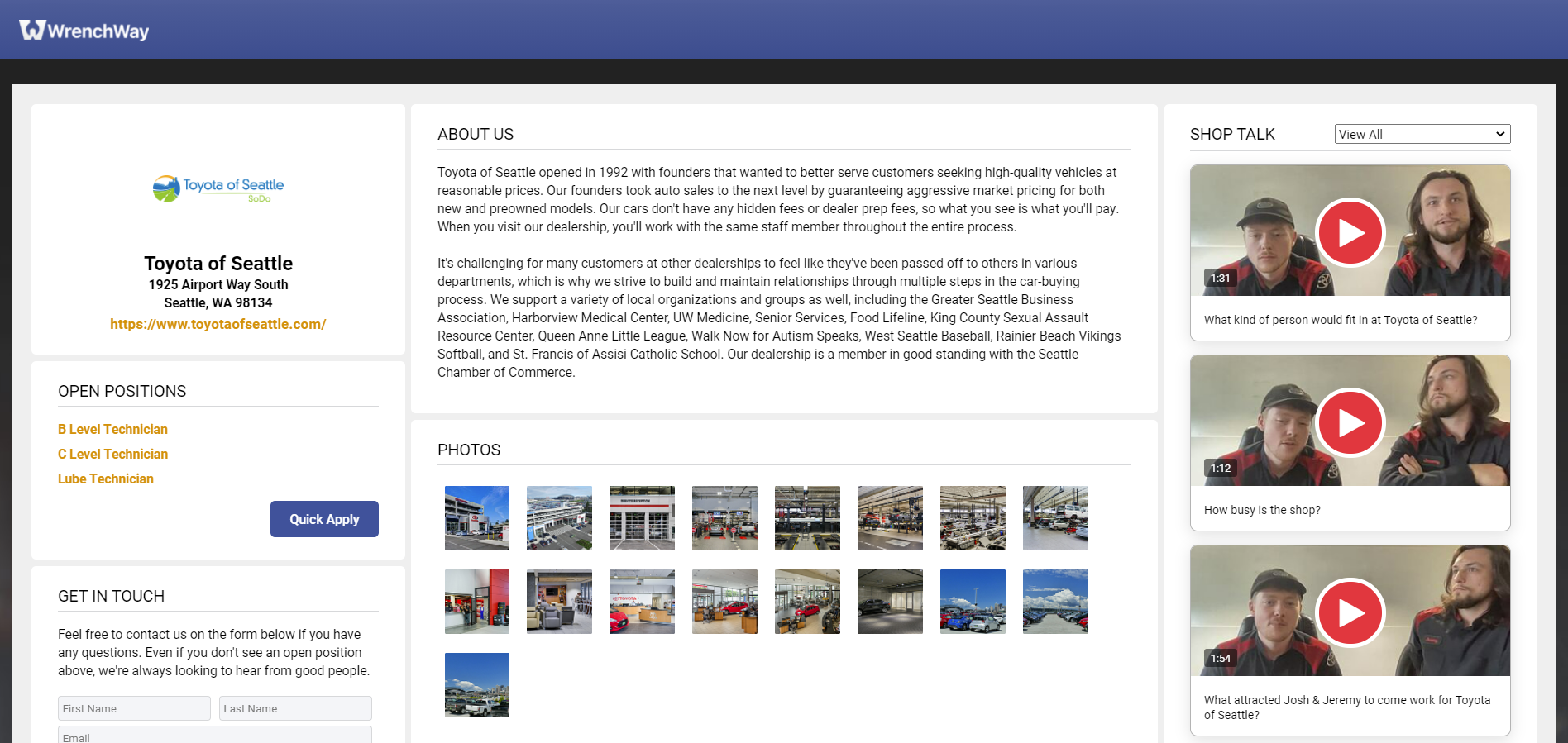 Being Personable is Better Than Ok
There's a lot to like about Toyota of Seattle's Top Shop page. Their "About Us" description is very detailed, and their photos not only show the exterior of the shop, but also the interior working conditions.
One of the best touches this Top Shop page has to offer are the videos in the "Shop Talk" section. There you will find actual Toyota of Seattle employees talking honestly about their employer and working conditions. Their raw answers and unrehearsed reactions are the honest opinions that technicians are looking for when searching for a new job.
Remember to be honest with technicians on your Top Shop page so you can find the right people who will stay with your shop for years to come.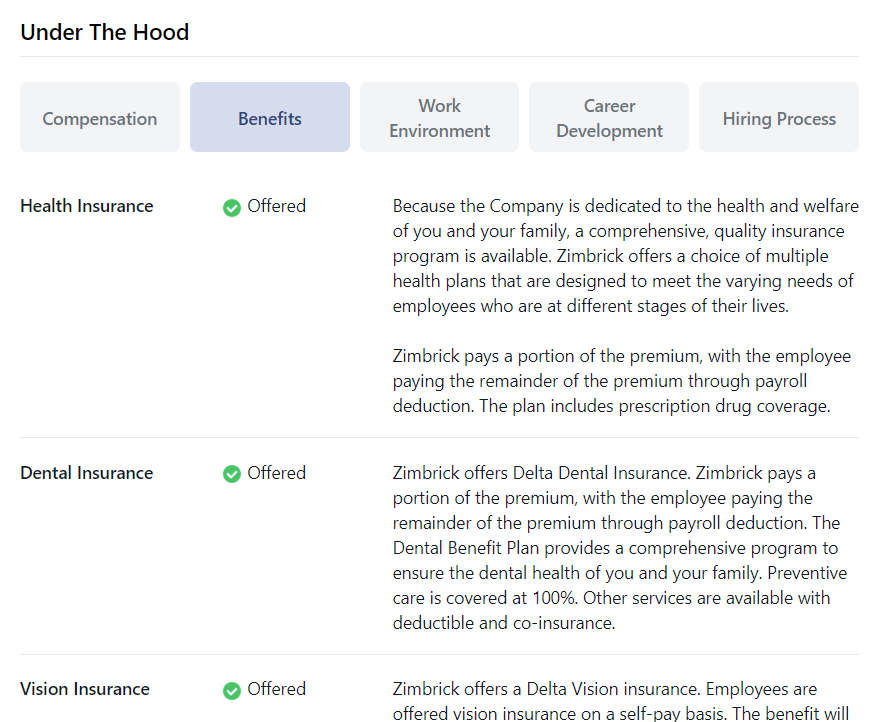 Don't Spare Any Details
Why not answer all of the common questions technicians ask during an interview BEFORE they even take the time to apply and interview?
The "Under The Hood" section located in every Top Shop page outlines all the FAQs technicians ask about your shop, from details about the benefits package to what the hiring process looks like. Zimbrick Audi Madison's Top Shop page does a great job of answering all of the technician FAQs with detailed responses. They check all the boxes and not only let potential employees know that they offer insurance, but they even list specific providers available.
Remember, your shop has amazing features. Whether it's a heat/air-conditioned shop or you help technicians get ASE-certified, make sure you're making these awesome benefits known to potential technician candidates.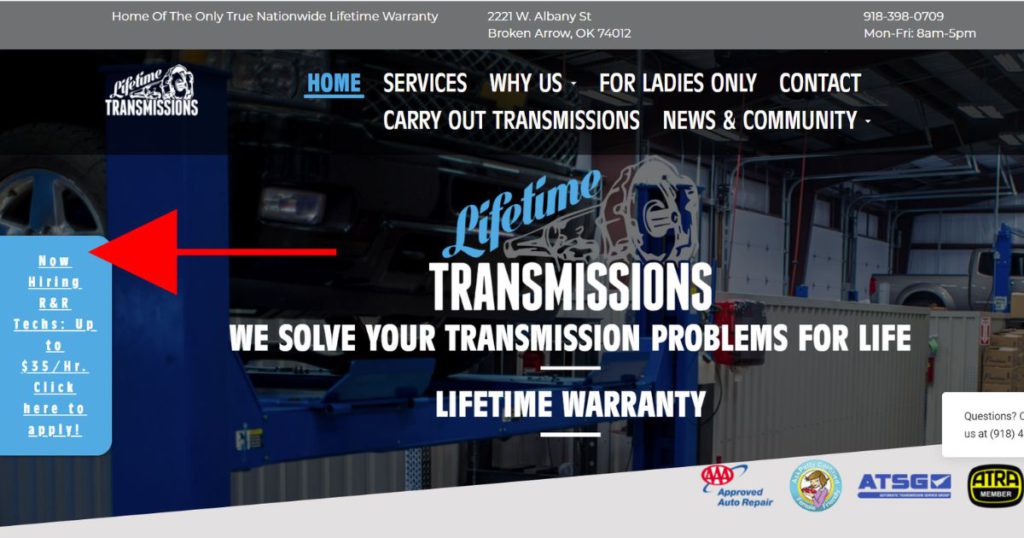 Market Your Technician Job Openings (Everywhere!)
Lifetime Transmissions' Top Shop page is another great example of a Top Shop page done right. Their "About Us" section is detailed, their videos all highlight different topics, and overall the Top Shop page just does a good job of highlighting why they are a great shop for technicians to work at.
What Lifetime Transmission really does well is they market their Top Shop page everywhere.
To increase their chances of getting more qualified technician applicants, they even link to their Top Shop page from the homepage of their website. When you visit their website, you can't help but notice they are hiring for technicians. This big blue call-to-action button on their website catches the attention of technicians visiting their site, and links directly to their Top Shop page with all the details.
5 Tips For Creating Top Shop Pages that Attract Technicians
We're a little biased, but a Top Shop page is an awesome chance to show technicians why they should work for your shop and not your competitor down the road.
To summarize, here are some final tips on how you can move your Top Shop page from Neutral into Drive and recruit more technicians:
1. Simple and Personable is GREAT
Top Shop pages set your shop apart from the competition and help show aspects of your shop that applicants can't get from Google or your website. Let applicants hear from you (their future boss) or your employees (their future co-workers).
2. The More the Merrier
No detail is too small. Top Shop pages should show potential applicants what it is really like to work for your shop. How many hours on average do technicians work? How many technicians work for the shop? Is there room for growth? Give technicians the information they want ahead of time to get more qualified applicants.
3. Market Your Page Everywhere
It's not enough just to have a Top Shop page, shops need to use it. Be sure to link to it on any active job postings you have (like on Indeed or LinkedIn), post it on social media regularly, have your employees share it with their network on social, link to in in your email signatures, and more. The more shops market their Top Shop page, the more technician eyes will be on it.
4. No Need to Get Fancy
There is no need to hire a professional videographer or photographer. Using your cell phone for photos and videos works just fine when taking photos or creating videos for a Top Shop page. Free to minimal-cost video tools, like Zoom, can be used to record videos for your "Shop Talk" section too.
5. You Don't Need to Be A Web Designer or IT Professional
You don't need IT to build a Top Shop page. Every one of our clients has a dedicated account manager that builds their Top Shop Page. Clients are asked to provide photos of the shop, but our team will even help record the videos. Once the Top Shop page is built, clients can log into our online portal, and easily make edits to their page whenever needed.
Have Questions? Contact Us!
Whether you're a client who would like help improving your Top Shop page, or a shop who wants to learn more about how Top Shop pages can help attract more technicians, we'd love to hear from you. Contact our team today!